The last of the late breakers, the clown prince of Formula 1, the honey badger. For 11 fabulous seasons, Daniel Ricciardo has dazzled F1 fans with his never say die driving style and flamboyant personality that have made him a fan favourite.
But after a nightmare 2022 season, which has seen him outclassed by McLaren teammate Lando Norris, Ricciardo will spend 2023 on the sidelines as a reserve driver for Red Bull.
However, with seats proving hard to come by, Ricciardo may be out of F1 for a while. Here's a look back at five of his best races.
2014 Canadian Grand Prix
The first half of 2014 hadn't been kind to Red Bull; they had been outclassed by the Silver Arrows, and the unreliable Renault power unit was no match for Mercedes.
Ricciardo had been the best of the rest throughout most of the season, but he, too, had been unable to slay the Mercedes juggernaut, and it looked as if Canada would be yet another winless weekend.
Following a tidy, albeit unremarkable start Ricciardo began the first stint of the race in sixth place, but following a pair of Mercedes brake failures and Sebastian Vettel's struggles with the tyres, Ricciardo suddenly became a contender for the win.
With a gutsy move on Sergio Perez into turn one snatching him second, Ricciardo went after Nico Rosberg for the win, and with the help of DRS, the Australian breezed by into the lead with two laps to go taking the first win of his young career and becoming the fourth Australian to win in F1.
2014 Hungarian Grand Prix
With a win already in his pocket, Ricciardo came into the final weekend before the summer break hopeful of adding another piece of silverware to his trophy cabinet.
Like Montreal, he had been out-qualified by Vettel, but with rain expected for race day, Ricciardo still had a good chance of winning.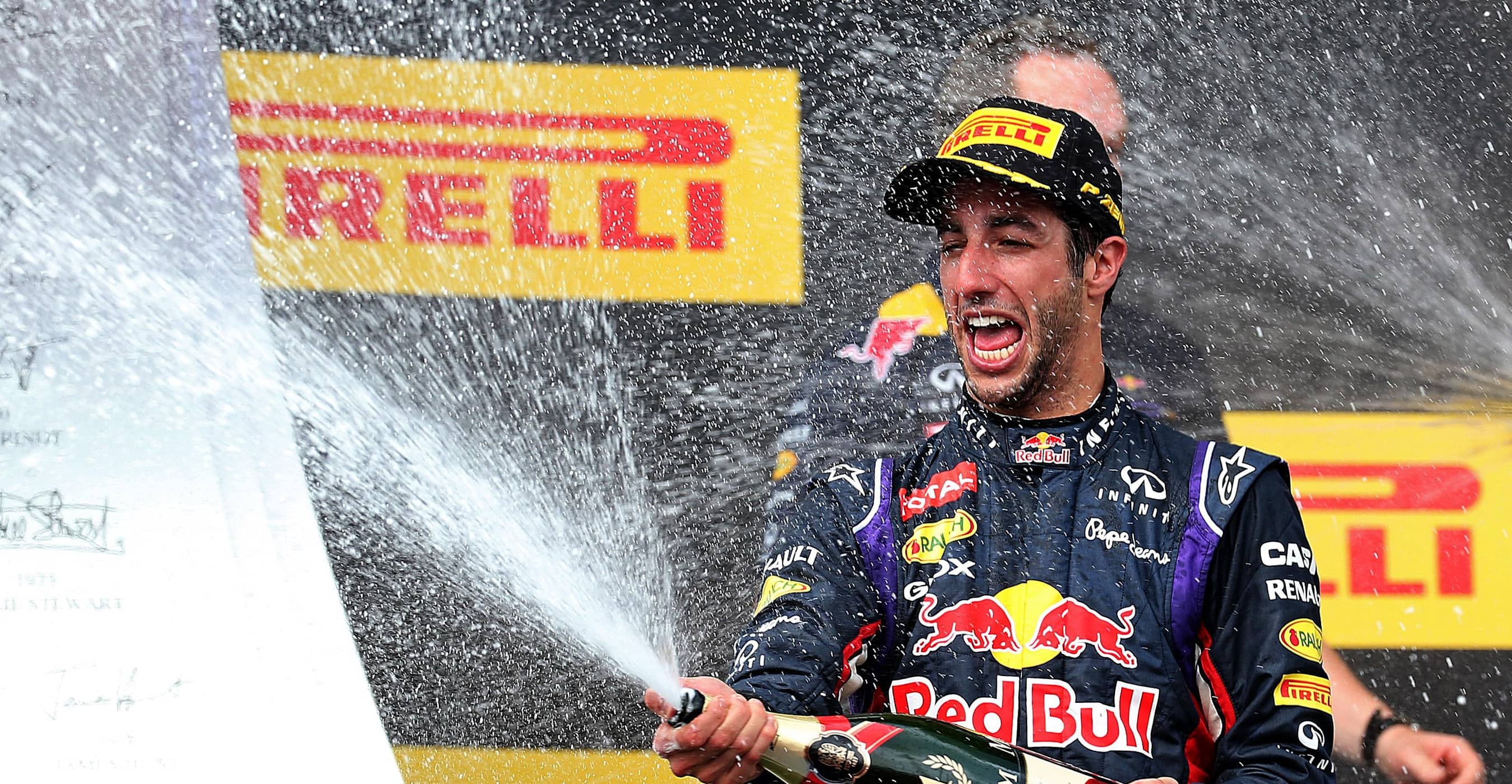 He lost positions at the start but quickly made up ground when the track dried, and he switched to a two-stop driver coming in early for a set of softs, putting him on to the tail of the lead group.
After completing his final stop, Ricciardo closed in on race leader Fernando Alonso going around the outside of Lewis Hamilton into Turn 2 before cheekily steaming down the inside of Alonso into Turn 1 to seal a superb second win.
2018 Monaco Grand Prix
Monte Carlo had previously been a place of pain for Ricciardo, losing a near-certain victory in 2016 following a botched pitstop.
Two years on from the weekend of what-ifs, Ricciardo was driving like a man possessed, taking a vital pole position from Sebastian Vettel by over a tenth.
Ricciardo got a dream start when the lights went out and covered Vettel off beautifully, holding his lead through Saint Devote and following his first pit stop.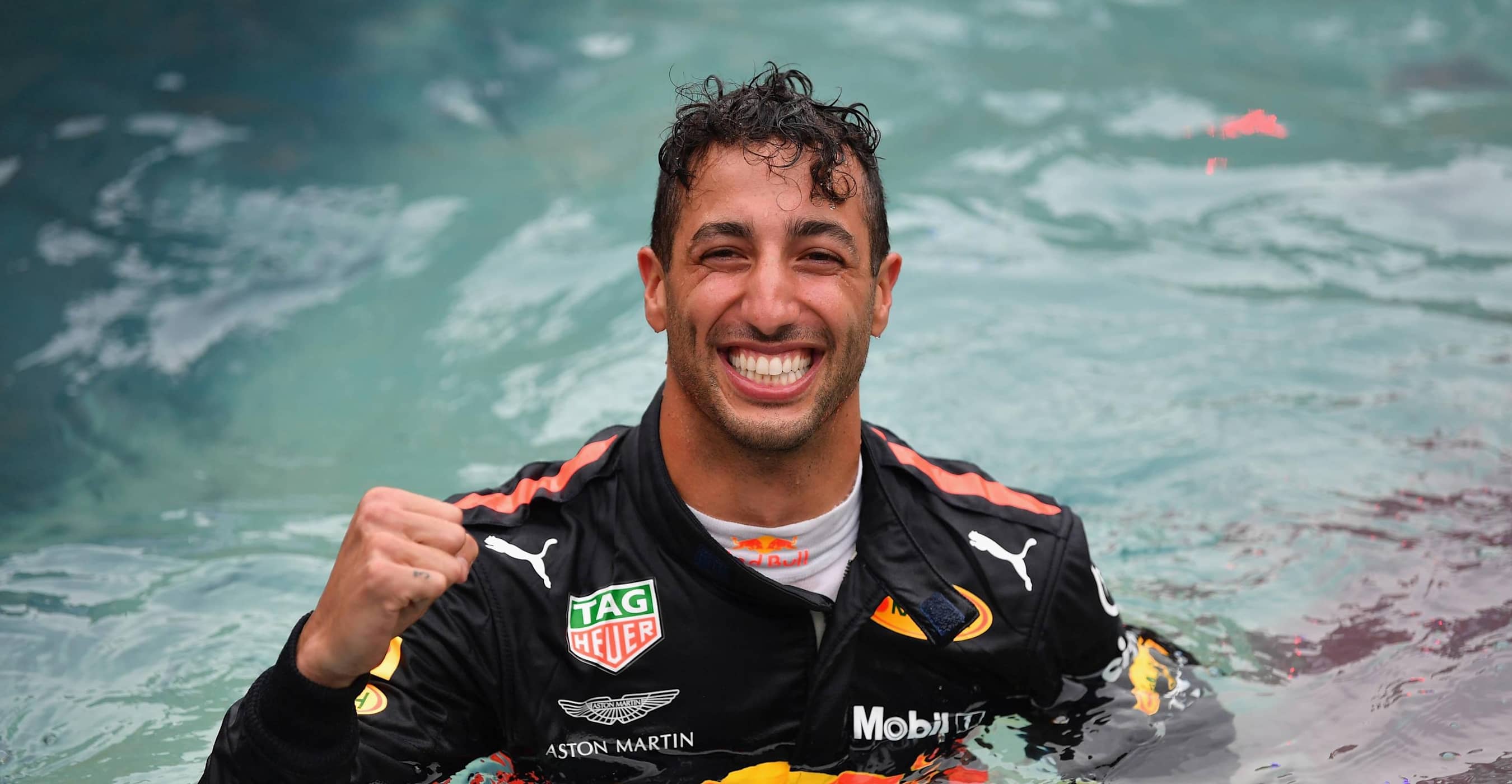 It was all going to plan until the Australian reported on the radio that he was losing power and that the issue wouldn't get any better, putting his chances of even finishing the race in grave danger.
Many would have given up, but Ricciardo kept going as he desperately held Vettel back as his lap times continued to tumble.
The Red Bull kept going, and Ricciardo got his redemption, taking an emotional victory that few knew at the time would be his last for the Milton Keynes-based team.
2020 Emilia Romagna Grand Prix
Even before a wheel had been turned in the Covid-19 hit 2020 season, Ricciardo had already caused tongues to wag by announcing he would leave Renault to join McLaren at the end of the year.
This irked team boss Cyril Abiteboul and Renault CEO Luca De Meo but whilst the war of no words took place off the track on it, Ricciardo was refinding his mojo, finishing fourth at Mugello before going one better in the Eifel Grand Prix at the Nurburgring ending a two-year podium drought.
Three weeks later at Imola, Ricciardo qualified fifth and was quickly up to fourth following a rocket start setting him up for a quiet race following Pierre Gasly's early retirement.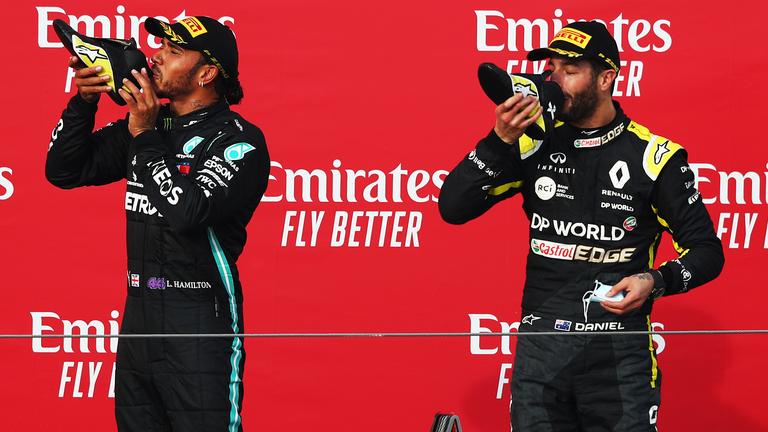 He later fell to ninth following the first round of stops but was back up to sixth when his old sparring partner Max Verstappen duelled with Valtteri Bottas for second place as the race entered its closing salvo.
Ten laps later, the Dutchman's tyre blew at Villeneuve, bringing the safety car out and putting Ricciardo back in the podium positions.
With only five laps left, the Australian produced a big enough gap to Daniil Kvyat to secure his second podium of the year.
2021 Italian Grand Prix
By the time the F1 circus set up shop at Monza, critics had already reached a verdict on Ricciardo's first season at McLaren, calling it a disappointment following a nightmare first half of the season that saw him outclassed and outdriven by Norris.
A big result was needed in what was the second Sprint race weekend of the season, and Ricciardo put himself in a perfect position with third in the Sprint that earned him second on the grid following Valtteri Bottas' demotion to the back of the grid.
When the lights went out, Ricciardo got a perfect start taking the lead off Verstappen into the Rettifilo, keeping the Dutchman behind for the opening stint as they broke away from Norris and Hamilton.
Ricciardo's stop for tyres still kept him in the net race lead from Verstappen, and when the Dutchman tangled with Hamilton in a heart-stopping crash at the Rettifilo, McLaren now had a 1-2 on their hands as Norris piled on the pressure.
Despite calls to switch positions, Ricciardo kept his lead to take victory, ending his four-year losing streak.